Visionaries and Pragmatists
I'm a marketing guy, but I am by no means a pro - I'm still very much learning my trade. I'm also somewhat new to the world of Silicon Valley startups and growth-stage, venture-backed, blah blahs, so I have even more to learn about this world too.
So how do I navigate this new world and a field that manages to straddle creative energy, psychology and business acumen, and an increasing emphasis on data?
I read. Every day. On all things relevant to my current profession.
One book, in particular, has forever shifted how I view marketing and tech. A book I've been devouring daily and pouring copious notes into Evernote. I'm speaking, of course, of Geoffrey Moore's Crossing the Chasm.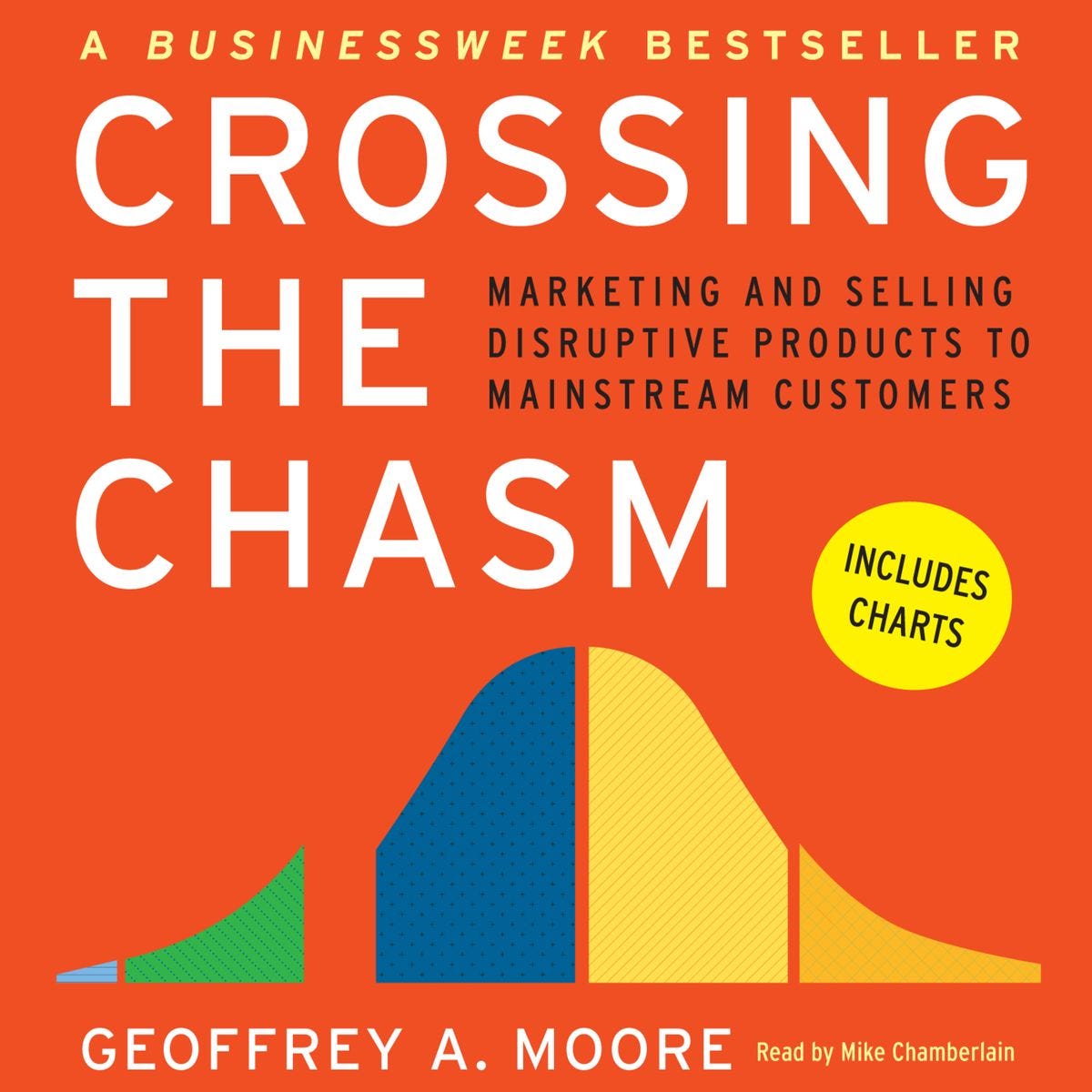 Now there is a lot of actionable tidbits in this book, including how to create buyer scenarios and market development checklists, loads of case studies, whole product models (speak for everything an end-user could want and expect your product to do to satisfy their needs), and much more.
What blew me away — and I'm a touch embarrassed to admit this as someone who literally just called himself a "marketing guy" in the opening sentence of this article — was the fundamental message of the book: the difference between early adopters and the early majority.
(Really, Colin? The basics of the technology lifecycle?)
Hey, it's something I honestly haven't studied since college. But I guess all it takes is the right book at the right time to show you the light.
Embarrassing admissions aside, I love this book. Now humor me as I try to explain it to you.
Chasm-22
Maybe you're like me and you love productivity apps and systems. You're constantly experimenting with new tools like Notion or trying out Superhuman for yourself to see if the "fastest email ever" is really worth a $30 price tag (TBD). I'm willing to invest in novel products and embrace a bit of risk on the chance I get something greater with my output.
But if you're like me, you're not like most — at least when it comes to my dumb obsession with apps.
Most aren't willing to experiment with apps like these until they're fully vetted or competition drives down pricing. Why go through the hassle of switching from Evernote to Notion until all the integrations and feature rollouts have happened (whole product).
This is the key distinction between the visionary early adopters (me and you) and the pragmatic early majority (your dad - Grandpapa is what we in the biz call a laggard).
Visionaries, like us, care about the leaps that new technology can enable. Because of this, they're willing to take on risk when investing in new products. They're less concerned with market leadership and more concerned with breakthroughs that can help them achieve their goals, be it business (SaaS), personal productivity (apps), or athletic performance (juicy needles in your butt).
"Visionaries are not looking for an improvement, there are looking for a breakthrough." - Geoffrey A. Moore
Pragmatists, on the other hand, prefer to make safer purchasing decisions and therefore rely heavily on references and mature, whole products. They love established marketplaces with lots of competition, as it lowers costs, creates security via alternatives, and allows them to identify and buy from an established market leader.

The single most important difference between early markets and mainstream markets is that the former are willing to take on risk and the responsibility for piecing together the whole product (in return for getting a jump on the competition) while the latter is not.
The unfortunate outcome from this difference in world-view is a peculiar catch-22, a cherry that many virgin start-ups struggle to pop: pragmatists won't buy from you until you're established, yet you can't get established until they buy from you.
Bowling on Beaches
This is where the book becomes actionable and moves beyond the adoption life-cycle theory into warfare strategy.
So what do you do if you're a young, stared-eye company trying to make it big in the mainstream?
The answer: capture the beach.
It's critical for every long-term strategic marketing plan to understand the pragmatist buyers (early majority) and to focus on winning their trust. The way you do this is with references.
Pragmatists talk vertically. They look within their company and respective industry to leaders for trusted products they should use. Why? Because they'll have similar use cases and it's the safe bet.
But every industry/company/team has its visionary — someone who looks horizontally across borders for emerging technology to help them better achieve their goals and get a leg up on the competition.
Now here's the rub. How do you go from a visionary willing to give a shot to all the pragmatists waiting for a mature and proven product?
This is modus operandi of the book, and it's what Moore calls the "D-Day Strategy."
A little insensitive, Geoffrey, but it drives home the point, nonetheless.
You cross the chasm from visionary early markets to pragmatist mainstream by targeting a very specific niche market where you can dominate from the outset (Normandy), drive your competitors out of the niche market, and then use it as your base for broader operations.
By finding your target market and quickly becoming the market leader, you can knock down the pins of adjacent markets. The goal then in this stage is to create a pragmatist customer base that is referenceable — people who can gain us access into larger mainstream markets.
When just starting out, it's better to be a big fish in a little pond so other ponds will take notice."
"But what does it all mean, Basil?"
Naturally, when many hear this, the response is, of course, something to the effect of "Duh, you idiot!"
Sure, everyone knows that you have to go after a target customer first. Why then, do most companies fail to make the leap from a fledgling start-up to powerhouse market leader? Focus and abstinence.
Focus
When Apple was first marketing the Macintosh, they didn't go after a single industry. They didn't even market to a single profession.
They went after a single task of a single function in a single kind of company — the new role of graphic designer and their remedial task of creating presentations for their bosses. Seriously, look it up.
The genius of this approach is how it enables the technology to organically spread, much like the Coronavirus (I'm so sorry, I just had to have one nod.)
After seeing the (at the time) incredible visuals of the designer's presentation, sales teams started using the Mac to create their own. Then it spread to the marketing team, and from there, the company's ad agency. Then to the marketing teams of the other agency's clients.
An on and on.
Start small and focus on a specific user need. You want to target a beachhead that is:
Big enough to matter

Small enough to win, and a

Good fit with your crown jewels
This is what defines an effective D-Day strategy.
Abstinence
Trying to cross the chasm without targeting a niche market is like trying to start a fire without kindling.
Young companies trying to scale and desperate for cash flow are often tempted to pursue anything that'll bite. And why shouldn't they? Why would any sane person turn down a sale?
Because pursuing sales from customers that do not constitute the beachhead market compromises the success of the entire strategy.
The goal here is not to spread the companies thin across all sorts of different customer segments, use cases, and product needs, but to focus absolutely on a single target. Doing so allows for the greatest likelihood that you will win market share from the incumbent and become the market leader.
Then, once the target beachhead is won and competition pushed aside, line up other markets of which you can leverage the initial niche solution.
If this sounds like warfare, it's because it is. None of this happens in a vacuum. Other companies with similar solutions are either developing D-Day plans of their own or shoring up their defenses via product integrations and alliances.
The D-Day strategy has to be deployed with an intense commitment and a willingness to abstain from quick sales that feel good going down but ultimately are not good for you.
Anything short of this level of commitment will lead to either start-up death or something far, far worse — a zombie-like hell, neither dead or alive, just painfully continuing their existence until the founders simply give up.
Conclusion
All of this is a lot, I know. It's hard to compress an entire book into a couple of thousand words. But the insight here is undeniable, and any start-up or "marketing guy" can use this strategy to effectively scale their business.
By being insanely focused on the needs of a target, niche customer and their specific problem, and ignoring everything else as noise, those willing to be patient will find success.
A Quick Aside on Classics
Remember when book reports were actual homework? God, I mean, just the thought of reading and drafting a report on a classic piece of literature assigned by a cat-eyed teacher was enough to cause heart palpitations.
Now, it's a Sunday pastime.
Still, there's no shortage of opportunities to succumb to distractions or the paradox of choice when it comes to closing what to invest your time in reading.
There are plenty of articles out there to help you with the tactics of marketing or whatever your chosen profession might be. I could read all day about how to optimize my search campaigns with negative keywords or what email segmentation strategy makes sense.
But nothing beats a classic. Books like Crossing the Chasm or Positioning by Al Ries are fundamental, and they're worth picking up and understanding. Find the works that your industry's thinking was built on, earmark the passages that resonate with you and reference them often.
This is how you develop the underlying framework to succeed in your career, by starting with the basic building blocks for your knowledge skyscraper.
Start with the fundamentals. Then go from there.
Trust me, you won't regret it.