No One Owns Quality
Standing for something when no one is standing against you.
When I was working as a young brand manager on the Chipotle account, I had the chance to observe and learn first hand how a new brand platform was built from scratch. 
New leadership took over the helm at the Chipotle and, as it often is in such cases, the direction was to wipe the slate clean and start anew. 
I watched (and helped very little) as the team distilled the values, culture, and practices of the brand down into a single tagline — something that attempted to distinguish Chipotle from every other fast-casual or QSR chain out there, on which a long-term creative direction could be built. 
Where the team landed was: "Chipotle. for Real."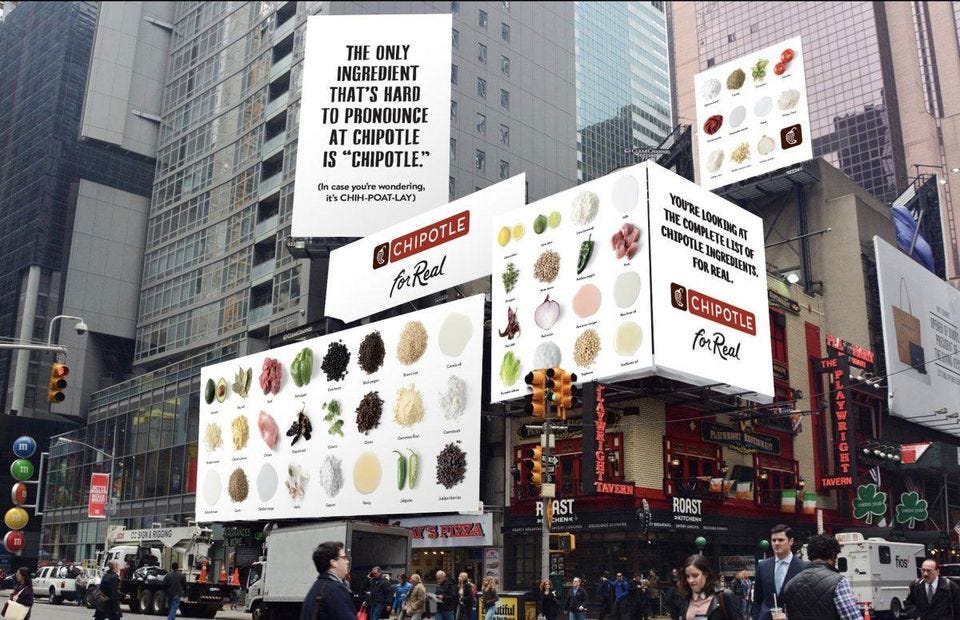 "For Real" spoke to all aspects of the brand. It represented how they prepared their food, using only real, locally-sourced ingredients. But the line also laddered-up to describe their overarching ethos and voice – that Chipotle stood for real. 
They stood for authenticity in an Instagram-filtered world. They stood for transparency in how they engaged with customers and shareholders. For a sense of humor that felt candid and witty. And, of course, they stood for real cooking practices in a world of microwave ovens. 
When I was working alongside the team that concepted this strategy, I thought it was so clever, and it was. It works at every level of the brand. 
But as I've thought about it more recently, I'm not sure it was the catalyst for the companies rebound that I once thought it was. 
Why? Because I'm no longer convinced that "real" is an ownable position. 
Real = Quality
The essence of marketing is narrowing your brand's focus to a single word in the customer's mind. Brands become stronger when you reduce the scope, and the most effective words are simple and benefit-oriented. 
In the 90's, almost every car company tried to sell off the word "quality."
General Motors' company slogan was "Putting quality on the road" while Ford rebutted with a devastatingly thoughtful "Quality is Job 1."
The issue here is you can't narrow the focus with quality or any other idea where there aren't proponents of the opposite point of view. You can't position yourself as the honest politician, because nobody is willing to take the opposite position.
Ensuring quality might be a great message out company outings, but out in the world, it breaks down because no one is claiming the "un-quality" position. 
Since everyone stands for quality, no one does. Standing for "real" is the same.
No restaurant or chain is planting their flag in the ground and exclaiming "we proudly use artificial ingredients." Even a certain fast-food chain claims on their website that "Every one of our burgers is made with 100% pure beef and cooked and prepared with salt, pepper and nothing else — no fillers, no additives, no preservatives."
At the time of Chipotle's new campaign, brands like Panera ("Food as it Should Be") already stood for cleaner menus and opposed artificial ingredients. Focusing on real ingredients in this category is just like focusing on quality in cars. When everyone's chanting the same song, it's hard to stand out. 
Is the campaign clever? Absolutely! It's far, far better than anything I could think up on my own, works hard for the company, and allows Chipotle's brand to play in pop culture.
But knowing what I do now, if I were back in that war room two years ago, I think I might have at least raised my hand.
-Colin
---
My Favorite Things this Week
YouTube Video – Staying productive while in lockdown has become increasingly harder as the days now begin to blur together. This excellent video from Thomas Franks shares some useful ways you can trick yourself into doing the hard work.

Podcast – The team behind "Got, Milk?", Jeff Goodby and Rich Silverstein, share their advertising expertise and promoting during the Big Game. 

Article – Great read from Adam Keesling breaking down Shopify's new app, Shop, and the tradeoffs of a neutral B2B company introducing a product for consumers.

---
Quote of the Week
"Forces beyond your control can take away everything you possess except one thing, your freedom to choose how you will respond to the situation. You cannot control what happens to you in life, but you can always control what you will feel and do about what happens to you."
From Man's Search for Meaning by Viktor E. Frankl. Resurfaced with Readwise.